Disclaimer: SGY Love will not be responsible nor liable for any damage that might happen to your device during this process though the possibility of any damage is negligible. Try this at your own risk. This process has been tested and verified working on Samsung Galaxy Y.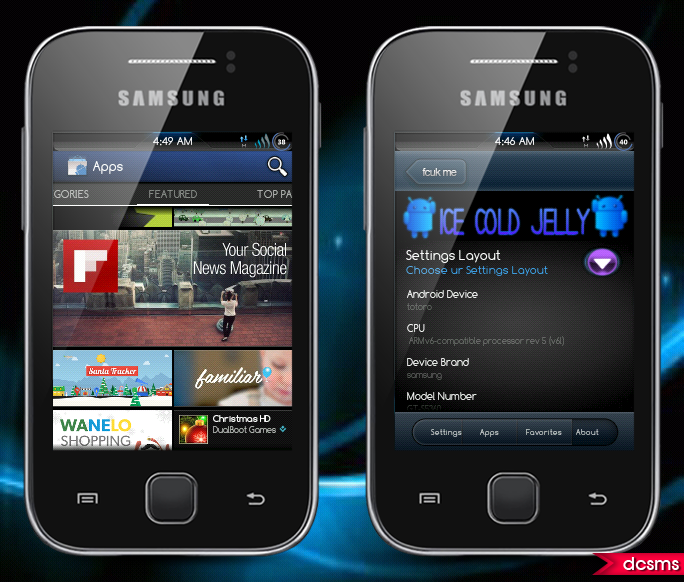 CUSTOM ROM: Ice Cold Jelly for Galaxy Y
Feautures:
-Very smooth and lightening fast
-all bugs fixed from previous rom
-revamped new ui
-all new bootanimation with awesome graphics
-fix cpu control problem
-DSP manager
-6 lockscreens
-added new extended power menu
-blue themed ui
-added adw launcher
-removed all bloatwares
-HD call screen
-camera- Clearer pictures like never before
-all new settings
-new dialer and contacts like that from cm7
-BRAVIA hack..
-breath taking status bar with 14 toggles..
-ics like popup msg
-get ics and cm7 taste
-apw with skin include
-added cool theme
-preinstalled fonts
-all apps themed
-cm camera added
-hells fusion included
-get full blue xperience
-cool callscreen
-new music player
-new search
-blue walls added
-market also blue
-Statusbar icons
-Call answer icons
-Incallgraphics
-More animated notification icons
HOW TO INSTALL THIS ROM:
1.FLASH DXLF STOCK ROM VIA ODIN
2.BOOT INTO RECOVERY MODE USING THREE BUTTON COMBO, THAT IS, vol up home lock key.. stock recovery will be there, BOOT INTO CWM VIA SELECT FROM SD CARD..
3.IN CWM, WIPE DATA AND CACHE..
4.SELECT INSTALL FROM SDCARD
5.SELECT THE ROM YOU DOWNLOADED
6.SELECT YES
7.LET THE PROCEDURE FINISH, KEEP PASSIONS 'TIL THEN
8.NOW GO TO ADVANCED IN CWM ITSELF, AFTER INSTALLING FINISHES, SELECT "REBOOT RECOVERY", IT WILL SHOW GALAXY Y LOGO AND STOCK RECOVERY WOULD COME..
9. HERE AGAIN WIPE DATA AND CACHE BOTH..
10. REBOOT PHONE..
WAIT FOR ROM TO FLASH UP AND ENJOY